CVF-NEWS
Election funding in state budget update; potentially significant election changes proposed
June 23, 2015

Hi Folks,
This edition of CVF-NEWS provides an election funding update for the 2015-16 state budget and details on a proposal being developed to implement potentially significant changes to California's election process.

-- Kim Alexander, President & Founder
California Voter Foundation
In final budget deal, election mandates continue to go unfunded; some new funding provided for modernizing DMV's voter registration services
Last week California Governor Jerry Brown and legislative leaders finalized the 2015-16 state budget deal. Despite the state being back in the black and having a budget surplus, funding to pay for election programs mandated by the state continues to be suspended.
As reported in the April 24th edition of CVF-NEWS. the Senate had approved adding $77.4 million to unsuspend the mandates and pay back millions owed to counties since 2011 when the mandates were first suspended. However, the budget conference committee members decided to stick with the Governor's proposal.
At the budget conference committee's June 4th hearing, members said they wanted to find out whether counties were in fact providing the mandated services, such as provisional ballot signature verification and allowing voters to become permanent vote-by-mail voters, even though those programs are no longer eligible for state reimbursement. The committee tasked the Department of Finance to work in consultation with the Secretary of State and the Legislative Analyst's office to research this issue.
Most troubling during this hearing was the testimony provided by Dept. of Finance staff repeating the findings of that agency's March 30th report on election mandates which concluded, erroneously, that counties are able to reduce the number of polling places they provide to voters based the number of vote-by-mail voters they have. Concerns with this analysis led ten organizations that are members of the Future of California Elections collaborative to send a letter to the Dept. of Finance, Governor and legislative leaders expressing concerns and clarifying current law.
Although the election mandates funding was not restored, the Governor and Legislature did agree to add $2.35 million to fund technological improvements at the Department of Motor Vehicles and the Secretary of State's office that will better facilitate voter registration via the DMV. This money was added because of a looming lawsuit brought by the ACLU and other groups challenging the DMV's poor implementation of the federal Motor Voter law.
This funding will hopefully lead to more Californians successfully registering or updating their registration records when they interact with the DMV. In a 2004 CVF survey of 1,000 nonregistered Californians, 18 percent said they were not registered to vote because they thought they had registered through the DMV. The improvements may also lead to pre-population of the voter registration form using DMV data, which will speed up the process and help Californians avoid having to double-enter their information when registering to vote via the DMV.
Secretary of State, legislative leaders propose potentially significant changes to California's election process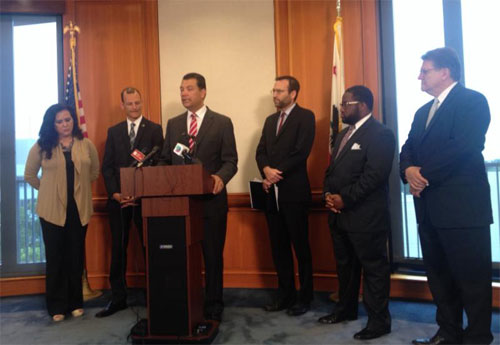 On June 10, California's newly elected Secretary of State, Alex Padilla, joined with several legislative leaders in his office to announce the introduction of legislation that, if enacted, could significantly change the election process in California. The vehicle for this change is Senate Bill 450, authored by Senator Ben Allen (D-Santa Monica), who also chairs the Senate Elections Committee.
The proposal is to adopt a "Colorado-style" model of elections, where every voter is mailed a ballot, and instead of one polling place per 1,000 voters, counties would provide some number of voting centers and ballot drop off locations that voters could access for several days or weeks prior to the election and utilize county-wide. How many voting centers and drop off locations per voter would be required is an issue being debated by proponents, registrars and voter advocates.
Unlike Colorado, which adopted this hybrid process on a statewide basis, this proposal is an "opt-in" plan, where counties can choose to adopt this process countywide if and when they are ready. By making implementation optional, the state avoids having to pay costs associated with moving to this system, which are expected to include costs for printing and mailing ballots and ballot envelopes to every registered voter, and acquiring electronic pollbooks and on-demand ballot printers to facilitate county-wide voting. Proponents expect that counties will enjoy cost savings by closing polling places which will provide an incentive to make the change.
The legislation is being fast-tracked to take advantage of the momentum in the State Legislature for election reform following California's record low 2014 voter turnout, and is scheduled to come up in the Assembly Elections Committee on July 15. If enacted as currently planned, counties would be able to adopt the new voting process beginning in 2018, after VoteCal, California's new statewide voter registration database, is in operation. See the Secretary of State's news release for more details and comments from legislative proponents, Katie Orr's story for Capital Public Radio and Patrick McGreevy's story in the Los Angeles Times.
Follow CVF on Twitter!
CVF uses Twitter to help our audience connect with important news and developments in the field of voting and elections, and also to offer live tweeting from conferences and events. An archive of tweets and links to relevant stories is available at
https://twitter.com/#!/kimalex3.

Follow @kimalex3 on Twitter to get CVF news tips, opinion and analysis from CVF's president.
- - - - - - - - - - -
The California Voter Foundation is a nonprofit, nonpartisan organization promoting and applying the responsible use of technology to improve the democratic process. CVF-NEWS is a free, electronic newsletter featuring news and updates about the California Voter Foundation's projects and activities.
Contact the California Voter Foundation by:
phone - (916) 441-2494
web - http://www.calvoter.or
U.S. Mail - P.O. Box 189277, Sacramento, CA 95818
Support CVF's work with a tax-deductible contribution! Learn more at http://www.calvoter.org/donate
Site Map | Privacy Policy | About Calvoter.org

This page was first published on June 23, 2015 | Last updated on June 23, 2015
Copyright California Voter Foundation, All Rights Reserved.