CVF-NEWS
California state budget election funding and legislative update
April 24, 2015

Hi Folks,

This year, like last, the California Voter Foundation is working with a number of other organizations, including the California State Association of Counties (CSAC), the California Association of Clerks and Election Officials (CACEO) and the League of Women Voters of California to urge the California Legislature and Governor Jerry Brown to restore funding in the state budget for local election programs such as voting by mail.

This edition of CVF-NEWS provides an election funding update for the 2015-16 state budget, as well as a legislative update on two bills CVF is supporting to improve the vote-by-mail process.

-- Kim Alexander, President & Founder
California Voter Foundation
Senate committee votes to add $77.4 million to budget to pay for local election programs
Earlier this month, the California State Legislature's budget subcommittees met to decide whether to agree with the governor's budget proposals on numerous items, including the so-called "State Mandates" category of budget funding, which pays for costs incurred when counties implement state laws, such as giving voters the ability register as permanent vote-by-mail voters and requiring counties to verify provisional ballot envelope signatures.
Since 2011, Governor Brown and the Legislature have suspended a number of state-mandated programs and have instructed counti
es to treat these programs as "optional", thus taking the state off the hook for reimbursing program costs.
Counties, the State Legislative Analyst's Office, the Senate Republican Caucus and many others have raised concerns since 2011 that election programs should not be treated as "optional programs", since uneven implementation of programs like permanent vote-by-mail violates voters' rights to equal protection.
Last year, the Senate's budget subcommittee #4 voted to restore the funding needed to take the election programs off the suspended mandates list and ensure those services are reliably provided by counties. However, that funding was removed during the budget conference committee.
This year, the subcommittees took up the election mandates funding earlier this month. On April 7, the Assembly's budget subcommittee #4 voted to leave open the question of whether to continue to suspend the election mandates. Then on April 9, the Senate's subcommittee met and took up the election mandates issue. CVF provided a letter of support and testified at the hearing in favor or restoring the funding, along with representatives from CSAC and the League of Women Voters.
Once again, the committee voted, this time unanimously, to support a motion by Sen. Janet Nguyen (R-Garden Grove) to add the $77.4 million needed to "unsuspend" the mandates and enable counties to once again seek reimbursement for state-mandated election program costs. In addition to Sen. Nguyen, the committee's chair, Richard Roth (D-Riverside) and Richard Pan (D-Sacramento) voted in favor of the motion.
This was a significant victory for our efforts to restore this funding to the budget but it is just one step in a long process. Next we will see what happens in the Assembly, where the Budget Subcommittee #4, chaired by Assemblyman Adrin Nazarian (D-Sherman Oaks) will decide whether to match the Senate's motion and similarly vote to restore $77.4 million to the budget, likely to happen after the Governor's May revise of the budget comes out next month.
One complication that makes this effort challenging is that Governor Brown and his Department of Finance staff are critical of the mandates reimbursement process itself. Following last year's budget, Finance was directed by the Legislature to issue a report seeking ways to reduce election mandate costs. That report came out in late March, and made the claim that the state is actually saving counties money by requiring them to allow voters to become permanent vote-by-mail voters since it costs less money to cast ballots through the mail than at the polls.
This analysis completely overlooks the fact that counties must prepare polling places for vote-by-mail voters as well, who often show up to vote provisional ballots. CACEO president Neal Kelley responded to the Dept. of Finance report with this letter to Governor Brown and legislative leaders. (For more analysis of this exchange, see this 4/24/15 blog post by Doug Chapin).
Legislation to implement CVF recommendations to improve voting by mail advances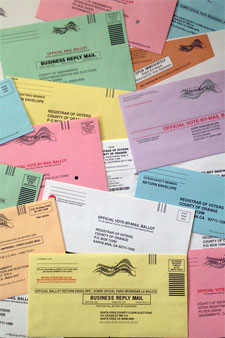 Following up on CVF's report, Improving California's Vote-by-Mail Process: A Three County Study issued last August, two bills have been introduced in the State Legislature to implement CVF's report recommendations. CVF is supporting both bills and working closely with the authors and their staff as the bills move through the legislative process.

Assembly Bill 477, authored by Assembly Member Kevin Mullin (D-South San Francisco), would, if enacted, allow voters who forget to sign their mail ballot envelopes to send in their signature on an "Unsigned Ballot Statement" to be attached to their ballot and envelope so it can be counted. The bill passed out of Assembly Elections last week and will next be heard in Assembly Appropriations.
CVF's letter of support notes that according to research conducted by the California Civic Engagement Project, an estimated 16 percent of VBM ballots cast in November 2012 that didn't get counted were rejected due to missing signatures. AB 477 would allow election officials to contact voters to urge them to submit their signature separately so that the ballot does not need to be mailed back to the voter and the voter does not have to appear in person at the election office in order to correct their ballot to add their signature.
Senate Bill 365, authored by Senator Fran Pavley (D-Agoura Hills) will, if enacted, provide for mail ballot drop boxes in California statute and direct the Secretary of State to create regulations that identify best practices for ballot drop box security, chain of custody and frequency of pickups.
CVF's letter of support notes that mail ballot voters are returning their ballots in person rather than through the mail at an increasing rate, and that the addition of provisions in statute to permit ballot drop boxes will clear up any confusion counties have as to the legality of providing this service to voters. SB 365 passed out of Senate Elections on April 7 and will next be heard in Senate Appropriations.
Follow CVF on Twitter!
CVF uses Twitter to help our audience connect with important news and developments in the field of voting and elections, and also to offer live tweeting from conferences and events. An archive of tweets and links to relevant stories is available at
https://twitter.com/#!/kimalex3.

Follow @kimalex3 on Twitter to get CVF news tips, opinion and analysis from CVF's president.
- - - - - - - - - - -
The California Voter Foundation is a nonprofit, nonpartisan organization promoting and applying the responsible use of technology to improve the democratic process. CVF-NEWS is a free, electronic newsletter featuring news and updates about the California Voter Foundation's projects and activities.
Contact the California Voter Foundation by:
phone - (916) 441-2494
web - http://www.calvoter.or
U.S. Mail - P.O. Box 189277, Sacramento, CA 95818
Support CVF's work with a tax-deductible contribution! Learn more at http://www.calvoter.org/donate
Site Map | Privacy Policy | About Calvoter.org

This page was first published on April 24, 2015 | Last updated on June 23, 2015
Copyright California Voter Foundation, All Rights Reserved.