CVF-NEWS
Update on Sacramento County's Voters Choice Act Implementation
December 8, 2017
Hi Folks,

Today's edition of CVF-News features an update on Sacramento County's implementation of the Voters Choice Act. There are very important changes to the voting process coming to Sacramento and four other counties in 2018. CVF is closely involved with and monitoring Sacramento's implementation and committed to keeping you updated and engaged in this important process.
-- Kim Alexander, President & Founder
California Voter Foundation
Update on Sacramento County's Implementation of the Voters Choice Act
Over the past five months, Sacramento County's Elections department has been deeply engaged in the process of implementing a new "vote center" model known as the "Voters Choice Act".
This change was covered in an August 2017 edition of CVF-News. In all, five counties - Sacramento, Napa, San Mateo, Nevada, and most recently Madera - will implement this new voting process beginning in June 2018.
Sacramento has established committees to help guide the county's services to voters who need language access and voters with disabilities which have been holding regular meetings for several months now.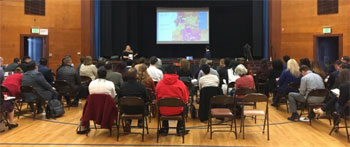 In addition, as required by law, Sacramento recently published its "Election Administration Plan" (EAP) describing its public education and outreach plans, and is taking comments from the public on the draft plan now.
The county will hold a public hearing on Tuesday, December 12 at the Registrar of Voters Office to get additional public input and has set up a conference line as well for those who want to participate but cannot do so in person.
You can find the plan online here along with a link to the "Comment" form where comments may be submitted. The county is accepting comments on this draft plan until December 26th.
You can also access other counties' plans through the new Voters Choice CA web site, which provides a variety of resources to help the public engage in all five counties' Voters Choice Act implementation.
One resource that is particularly helpful through this site is a "checklist" that people reviewing Election Administration Plans can use to ensure their county is fully complying with the new law.
In addition to publishing its EAP, Sacramento has also released maps showing where the county intends to or is considering placing its initial 16 and later 78 county-wide vote centers that will replace neighborhood polling places. To see these potential sites and learn more about the criteria being applied to determine the best sites, visit the "Locations/Vote Centers" section of the county's web site.
Follow CVF on Twitter!
CVF uses Twitter to help our audience connect with important news and developments in the field of voting and elections, and also to offer live tweeting from conferences and events. An archive of tweets and links to relevant stories is available at
https://twitter.com/#!/kimalex3.

Follow @kimalex3 on Twitter to get CVF news tips, opinion and analysis from CVF's president.
- - - - - - - - - - -
The California Voter Foundation is a nonprofit, nonpartisan organization promoting and applying the responsible use of technology to improve the democratic process. CVF-NEWS is a free, electronic newsletter featuring news and updates about the California Voter Foundation's projects and activities.
Contact the California Voter Foundation by:
phone - (916) 441-2494
web - http://www.calvoter.org
U.S. Mail - P.O. Box 189277, Sacramento, CA 95818
Support CVF's work with a tax-deductible contribution! Learn more at http://www.calvoter.org/donate
Site Map | Privacy Policy | About Calvoter.org

This page was first published on December 9, 2017 | Last updated on December 9, 2017
Copyright California Voter Foundation, All Rights Reserved.