CVF-NEWS
November 28, 2017
This Giving Tuesday, Please Give to CVF!
Dear Friends,

This is Giving Tuesday. Time to plan end-of-the-year donations.
We hope you'll include the California Voter Foundation in your plans.
Here's why.

By giving to CVF, you support the ongoing fight for secure, auditable elections.

By giving to CVF, you affirm that every vote counts and should be counted, and that voters should have the chance to correct mistakes before their vote-by-mail ballots are rejected.

By giving to CVF, you value an informed voting public, confident in the decisions we make when we vote.

By giving to CVF, you recognize the unique role California plays in our political culture and how important it is for California to set the gold standard for everyone else.

By giving to CVF, you share this organization's passion for and commitment to equal treatment and protection of voters and the need for more government resources to be expended to protect these rights.

By giving to CVF, you stand for the voters - all voters - and the would-be voters too, the people sitting on the sidelines we need to engage and involve if we want our state and nation to be truly reflective of the diverse people who live here.
CVF has big plans for 2018 with a new web site in the works and new program goals coming soon.

Please show your support now and give, so that we can continue our important work of improving the voting process for voters.

Your donation is tax-deductible and can be made online using a credit or debit card or PayPal at:
http://www.calvoter.org/donate

Or you may mail your donation to CVF at:

P.O. Box 189277, Sacramento, CA 95818

Thank you for considering us on Giving Tuesday.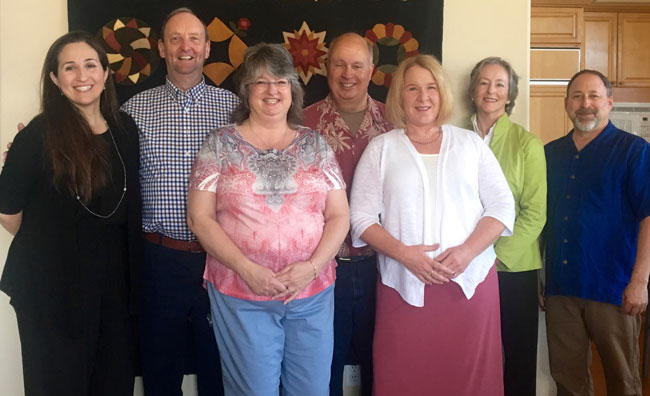 (L-R: Mindy Romero, Geoffrey Wandesforde-Smith, Cathy Darling Allen, David Jefferson, Kim Alexander, Susan King Roth, Steve Levine. Not pictured: Joseph Lorenzo Hall, Jack Lerner)
Kim Alexander, President & Founder
Prof. Geoffrey Wandesforde-Smith, Board Chair
Joseph Lorenzo Hall, Board Vice-Chair
Prof. Jack Lerner, CVF Secretary
Steve Levine, CVF Treasurer
Dr. David Jefferson, CVF Parliamentarian
Dr. Mindy Romero, Board Member
Cathy Darling Allen, Board Member
Prof. Susan King Roth, Board Member
Follow CVF on Twitter!
CVF uses Twitter to help our audience connect with important news and developments in the field of voting and elections, and also to offer live tweeting from conferences and events. An archive of tweets and links to relevant stories is available at
https://twitter.com/#!/kimalex3.

Follow @kimalex3 on Twitter to get CVF news tips, opinion and analysis from CVF's president.
- - - - - - - - - - -
The California Voter Foundation is a nonprofit, nonpartisan organization promoting and applying the responsible use of technology to improve the democratic process. CVF-NEWS is a free, electronic newsletter featuring news and updates about the California Voter Foundation's projects and activities.
Contact the California Voter Foundation by:
phone - (916) 441-2494
web - http://www.calvoter.or
U.S. Mail - P.O. Box 189277, Sacramento, CA 95818
Support CVF's work with a tax-deductible contribution! Learn more at http://www.calvoter.org/donate
Site Map | Privacy Policy | About Calvoter.org

This page was first published on November 28, 2017 | Last updated on November 28, 2017
Copyright California Voter Foundation, All Rights Reserved.