CVF-NEWS
Top Ten Resources for CA Voters
October 31, 2014
Hi Folks,
This weekend many voters will be going online to find out more about the candidates and measures. Below is a roundup of the top ten resources the California Voter Foundation recommends.

Happy surfing and Happy Halloween!

-- Kim Alexander, President & Founder
California Voter Foundation
Top Ten Online Resources for California Voters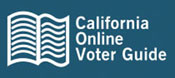 Voters looking for last-minute information will find a bounty of great resources online. Here is a rundown of some of the best for the November 4th election:

1. California Online Voter Guide - CVF's online guide has been around for twenty years, providing voters with an overview of all state and federal candidates on the ballot, along with their web site addresses and contact information. Propositions, a "Voting FAQ", and CVF's 2014 Proposition Song are also featured.

2. Voters Edge - produced by Maplight and the League of Women Voters of California, this online guide provides comprehensive ballot information for contests in most California counties. Simply type in your address and a personalized list of the candidates and contests on your ballot is displayed. Find information about candidates and follow the money with easy-to-read lists of top donors for and against each proposition. Contests can also be browsed online.

3. Official California Voter Information Guide - produced by the Secretary of State, this guide is mailed out to every registered voter's household. It provides nonpartisan information on the ballot propositions, such as an independent analysis by the state Legislative Analyst, pro/con arguments from proponents and opponents and texts of the propositions. Can't locate your printed guide? No worries. An online, expanded version is available.

4. Easy Voter Guide - produced by the California State Library and the League of Women Voters of California, this is a great resource for those who are looking for a short and sweet overview of the propositions. It's available both in print and online, in multiple languages, and designed to be read at the 8th grade level.



5. County Election Offices Roster - this is the page CVF refers voters to most often. That's because most of the questions voters have, such as questions about registration, polling place location, ballot information and vote by mail status, can only be answered by their county election office. Fortunately many counties provide online tools that help voters find answers to these questions online 24 hours a day. CVF's roster links directly to such tools where available.

6. County Sample Ballot - this is the local ballot pamphlet your county registrar of voters mailed to every registered voter in the past few weeks. It says where your polling place is and lists each contest on your ballot. It also includes statements from local candidates and campaigns. If you cannot locate your paper guide, you can usually find it online through your county election office's web site.
7. California Choices - a fantastic, comprehensive and easy-to-use resource to help familiarize voters with the statewide propositions, this site is produced by Next 10 and academic departments at Stanford, UC Berkeley, CSU Sacramento and UC San Diego. It features a user-friendly table of endorsements and a way for voters to share their opinions on the propositions with their friends through the site.

8. SeePolitical - this nonprofit is producing two-minute animated videos about the ballot propositions designed to both inform and entertain. A welome change from all the reading involved in preparing to vote!

9. FPPC's Top Ten Donors lists - Voters can access lists of the top ten donors for and against each proposition on the state ballot among committees raising at least $1 million. Thanks to the California Fair Political Practices Commission and the enactment of Senate Bill 27, this resource is being made available online by a government agency for the first time this election.

10. News organizations' voter guides - many California news organizations publish voter guides. Just a few to recommend include: KQED's Election Watch 2014 guide; the Sacramento Bee's Follow the Money feature which helps voters see how much money in independent expenditures is being spent in legislative contests, and its Voter Guide which lets voters peruse all the contests and make selections; and the Associated Press stories collection featured in CBS Sacramento's Election Guide. Check local media for additional online resources and stories.

Follow CVF on Twitter!
CVF uses Twitter to help our audience connect with important news and developments in the field of voting and elections, and also to offer live tweeting from conferences and events. An archive of tweets and links to relevant stories is available at
https://twitter.com/#!/kimalex3.

Follow @kimalex3 on Twitter to get CVF news tips, opinion and analysis from CVF's president.
- - - - - - - - - - -
The California Voter Foundation is a nonprofit, nonpartisan organization promoting and applying the responsible use of technology to improve the democratic process. CVF-NEWS is a free, electronic newsletter featuring news and updates about the California Voter Foundation's projects and activities.
Contact the California Voter Foundation by:
phone - (916) 441-2494
web - http://www.calvoter.org
U.S. Mail - P.O. Box 189277, Sacramento, CA 95818
Support CVF's work with a tax-deductible contribution! Learn more at http://www.calvoter.org/donate
Site Map | Privacy Policy | About Calvoter.org

This page was first published on October 31, 2014 | Last updated on November 2, 2014
Copyright California Voter Foundation, All Rights Reserved.