CVF-NEWS
Legislative & disclosure victories, new CVF board members, FOCE Fall Forum
October 20, 2015

Hi Folks,
Lots of good news to share - this issue of CVF-NEWS covers two legislative vote-by-mail balloting reform victories, as well as new and improved disclosure requirements for Top Ten Proposition Donors. We are also pleased to welcome two new members to the CVF Board of Directors! And please mark your calendars for the November 10th Future of California Elections Fall Forum. More details below.

-- Kim Alexander, President & Founder
California Voter Foundation
Vote-by-mail reform bills signed into law
SB 365 and AB 477 will help secure mail ballot drop locations and ensure more ballots are counted
Governor Jerry Brown has signed into law two bills that were supported by CVF and will make improvements recommended by the organization's 2014 vote-by-mail report:
AB 477/Kevin Mullin (D-South San Francisco) allows voters who forget to sign their ballot envelopes to send their signatures in separately from their ballot up to eight days after the election so their ballots can be counted. It is estimated that over 11,000 ballots submitted by voters in November 2012 were not counted due to missing signatures.
SB 365/Fran Pavley (D-Agoura Hills) creates provisions in California statute to permit counties to use mail ballot drop-off locations and directs the Secretary of State to develop regulations to establish best practices guidelines for drop-off locations, which will cover ballot chain of custody, pick-up times and physical security.
CVF worked with the authors and their staff and testified in support of both bills throughout the legislative year. For additional background, see CVF's SB 365 letter and AB 477 letter of support.

FPPC strengthens Top Ten proposition donor disclosure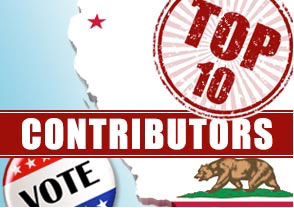 New regulation requires committess to identify the top two contributors behind a Top 10 listing
Last month the California Fair Political Practices Commission unanimously enacted a new regulation that requires committees that must report their top ten donors (as required by SB 27, which CVF supported) to also identify the top two donors to any state recipient committee that makes the list.
"The public is frustrated by people and groups hiding behind generic committee names that fail to disclose their true sources of funding," said FPPC Chair Jodi Remke in an agency news release. "This is another step towards the type of smart disclosure we are constantly seeking at the Commission."
Under SB 27, the FPPC is compiling and publishing lists of the top ten donors for and against each statewide proposition among committees raising $1 million or more. Top 10 lists are already available for November 2016 measures that have qualified. In addition, under another bill CVF supported, SB 844, the Secretary of State is now tracking and publishing total amounts raised for and against state propositions.
CVF worked with the FPPC on the new regulation and will continue collaborating with that agency as well as the Secretary of State to ensure these important resources are well-publicized, accessible and user-friendly for voters in 2016.
CVF welcomes two new board members
Dr. Mindy Romero and Shasta County Registrar of Voters Cathy Darling Allen bring new expertise to CVF board
The CVF Board of Directors recently elected two new board members, Mindy Romero and Cathy Darling Allen.
Dr. Mindy Romero is the founder and director of the California Civic Engagement Project at the UC Davis Center for Regional Change. Dr. Romero has been collaborating with CVF since 2013 on vote-by-mail research published by the CCEP, one of many election topics and trends she has analyzed. Her research is available online through the CCEP.
Shasta County Registrar of Voters Allen is the immediate past president of the California Association of County Election Officials (CACEO) and has overseen the administration of 24 elections. Both women are widely known and well-respected throughout the California election community and bring considerable expertise and knowledge to the CVF board.
Nov. 10th Fall Forum to preview 2016 election
Future of California Elections hosts luncheon event featuring Secretary of State Alex Padilla
With the 2016 Presidential election one year away, the Future of California Elections (FOCE), a collaboration of election reform groups and election officials, will host a luncheon event in at the UC Sacramento Center to highlight election and voting changes underway.

California Secretary of State Alex Padilla will kick off the discussion with opening remarks, followed by a panel featuring Dr. Mindy Romero, Lori Shellenberger of the American Civil Liberties Union, Sacramento County Registrar of Voters Jill LaVine and CVF President Kim Alexander.
The event is free but space is limited and registration is required.
Follow CVF on Twitter!
CVF uses Twitter to help our audience connect with important news and developments in the field of voting and elections, and also to offer live tweeting from conferences and events. An archive of tweets and links to relevant stories is available at
https://twitter.com/#!/kimalex3.

Follow @kimalex3 on Twitter to get CVF news tips, opinion and analysis from CVF's president.
- - - - - - - - - - -
The California Voter Foundation is a nonprofit, nonpartisan organization promoting and applying the responsible use of technology to improve the democratic process. CVF-NEWS is a free, electronic newsletter featuring news and updates about the California Voter Foundation's projects and activities.
Contact the California Voter Foundation by:
phone - (916) 441-2494
web - http://www.calvoter.or
U.S. Mail - P.O. Box 189277, Sacramento, CA 95818
Support CVF's work with a tax-deductible contribution! Learn more at http://www.calvoter.org/donate
Site Map | Privacy Policy | About Calvoter.org

This page was first published on October 20, 2015 | Last updated on October 21, 2015
Copyright California Voter Foundation, All Rights Reserved.