CVF-NEWS
New voter guide, SB 844 signed, upcoming events & more!
October 2, 2014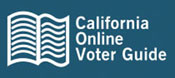 Hi Folks,

Lots of exciting news to share! In this edition of CVF-NEWS:
CVF launches new California Online Voter Guide for Nov. 4 election;

Gov. Brown signs SB 844 into law;

FPPC debuts new "Top Ten" proposition donors lists;

Oct. 9 Secretary of State candidates' debate;

Oct. 14 "Make Sure Every Vote Counts!" Vote-by-Mail panel; and

Governor signs mail ballot postmark bill into law.
-- Kim Alexander, President & Founder
California Voter Foundation

CVF launches new California Online Voter Guide for Nov. 4 election
online at www.calvoter.org/covg

The California Voter Foundation is pleased to debut the latest edition of the non-partisan California Online Voter Guide.

2014 marks the 20 year anniversary of CVF's voter guide, which first debuted on the Internet in 1994 and was one of only six election-related sites on the Internet at the time.

The guide lists every California candidate on the ballot running for statewide, congressional or legislative office. It also features resources and information about the six statewide propositions and provides web site links and contact information for all state and federal campaigns and candidates. The guide incorporates resources from CVF's extensive web site, including a Voting FAQ, a Directory of County Election Offices with links to online voter lookup tools, maps of political districts, and tips for following the money.

As election-related content has expanded on the Internet, CVF's guide has also expanded to help voters access the most reliable and valuable sources. Voter education sites that are highlighted in CVF's guide include Voters Edge (a project of Maplight and the League of Women Voters of California), the Easy Voter Guide (another League project), and official state voter guide from the Secretary of State.
Gov. Brown signs SB 844 into law
Total amount raised for and against California propositions to be reported by Secretary of State
On Tuesday, September 30th, Governor Jerry Brown signed into law Senate Bill 844, authored by State Senator Fran Pavley (D-Agoura Hills) and backed by the California Voter Foundation.

The bill directs California's Secretary of State to compile and maintain on the agency's web site the total amounts raised for and against each state proposition. It also requires the Secretary of State to notify voters via the state voter information guide that additional resources are available online, including top donors lists that are being compiled and maintained by the Fair Political Practices Commission.

CVF worked closely with Senator Pavley and her staff as well as the Secretary of State, Maplight and other advocates to craft the legislation, which ultimately gained bipartisan support and the Governor's signature. CVF is thankful to our many supporters who wrote to Governor Brown urging him to sign SB 844, and especially to the California Clean Money Campaign which launched a major grassroots campaign in support that resulted in over ten thousand petition signatures and thousands of personal email messages and phone calls to the Governor's office. The bill was also supported by California Forward, the League of Women Voters of California and California Common Cause.

The law goes into effect in 2015, and the total amounts will be compiled and reported online beginning with the 2016 election.
FPPC debuts new Top Ten Proposition Donors Lists
Enactment of SB 27 leads to new voter resource

The California Fair Political Practices Commission has launched a new online tracking site featuring the top ten donors for and against each state proposition among committees raising at least $1 million, online at www.fppc.ca.gov/top10nov2014.

The new resource is one of the provisions of Senate Bill 27, authored by Senator Lou Correa (D-Santa Ana), which was supported by CVF.

The FPPC staff has begun publishing and updating the top donors lists on its web site. They are also referenced in the state Voter Information Guide and featured on Cal-Access, the Secretary of State's campaign finance disclosure site. With the enactment of SB 844 and another initiative reform measure, SB 1253, these lists will also be featured on the Secretary of State's web site, where they will likely reach a much wider audience.

For a comprehensive look at all the top donors and total amounts raised on all the propositions, visit Voters Edge.
Oct. 9 Secretary of State Candidates Debate
Padilla and Peterson to face off in Berkeley
The open-seat contest for Secretary of State is shaping up into one of the most competitive statewide races this year. Republican Pete Peterson and Democrat Alex Padilla will face off in a public debate next week in Berkeley. Presented by the ACLU of California, this is part of a series of debates sponsored by a number of organizations, including CVF. The event is free but registration is required. More details and registration are available online.

The event will also be streamed live over YouTube via UC Berkeley Events and will take place 6:30-7:30 p.m.
Oct. 14 "Make Sure Every Vote Counts" Vote-by-Mail Panel in Sacramento
Discussion to focus on helping voters get it right when they vote by mail
On October 14, the Future of California Elections and the UC Center - Sacramento will host a lunchtime discussion about California's vote-by-mail process. The panelists will focus on mail ballot problems, new research identifying the top reasons why some mail ballots are not counted, and what voters can do to make sure their ballots are successfully cast and counted.

Panelists include:
Mindy Romero, UC Davis California Civic Engagement Project
Kim Alexander, California Voter Foundation
Jill LaVine, Sacramento County Registrar of Voters
Karla Zombro, California Calls
Dave Lesher, Public Policy Institute of California (moderator)
The event is free and includes lunch; space is limited and RSVP is required. More details and registration are available online.
Governor signs mail ballot postmark bill into law
SB 29 takes effect in 2015; for 2014 postmarks still don't count
Another bill that CVF monitored closely for the past two years is Senate Bill 29, authored by Lou Correa, which allows ballots postmarked by Election Day and received within three days to be counted. Making this change to the law was one of the key recommendations in CVF's recent vote-by-mail report and it is welcome news that this change is coming since it will likely result in tens of thousands of ballots being counted instead of rejected in future elections.

However, the bill does not take effect for this election so voter advocates and election officials want to ensure voters are aware that their ballots still must be received by 8 p.m. on Election Day. CVF and others are recommending voters who wish to return their mail ballots via the U.S. Mail do so one week prior to Election Day. Voters wishing to return their ballots after that time are advised to return them in person at county election offices or any polling place in their county on Election Day.
Follow CVF on Twitter!
CVF uses Twitter to help our audience connect with important news and developments in the field of voting and elections, and also to offer live tweeting from conferences and events. An archive of tweets and links to relevant stories is available at
https://twitter.com/#!/kimalex3.

Follow @kimalex3 on Twitter to get CVF news tips, opinion and analysis from CVF's president.
- - - - - - - - - - -
The California Voter Foundation is a nonprofit, nonpartisan organization promoting and applying the responsible use of technology to improve the democratic process. CVF-NEWS is a free, electronic newsletter featuring news and updates about the California Voter Foundation's projects and activities.
Contact the California Voter Foundation by:
phone - (916) 441-2494
web - http://www.calvoter.org
U.S. Mail - P.O. Box 189277, Sacramento, CA 95818
Support CVF's work with a tax-deductible contribution! Learn more at http://www.calvoter.org/donate
Site Map | Privacy Policy | About Calvoter.org

This page was first published on October 3, 2014 | Last updated on October 3, 2014
Copyright California Voter Foundation, All Rights Reserved.