CVF-NEWS
New voter guide & good news on disclosure bill SB 27!
May 8, 2014
Hi Folks,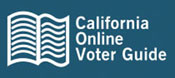 Today we are pleased to introduce the 23rd edition of CVF's California Online Voter Guide! There is also some wonderful news to share on Senate Bill 27 - more details are below.

-- Kim Alexander, President & Founder
California Voter Foundation
Introducing the June 2014 California Online Voter Guide
Nonpartisan guide helps voters learn about candidates, propositions
Today the California Voter Foundation (CVF) debuted a new edition of its California Online Voter Guide to help Californians prepare to vote in the upcoming June 3, 2014 statewide primary election. The guide is online at:

www.calvoter.org/covg

"California voters have many important decisions to make this June," said CVF president Kim Alexander. For the first time, California's new "Top Two" primary system will be in place for statewide contests. Under the new voting rules, all voters - regardless of party registration or affiliation - can vote for any candidate of any party in all contests on the ballot. "This expansion of voting rights gives all voters - particularly independent voters - a greater say in deciding which two candidates will face off in the November general election," she noted.

In addition to covering the statewide contests, CVF's new guide also features all California candidates running for legislative and congressional seats and their contact information and web site links. Many of these contests are highly competitive due to several factors including open seats created by term limits, the "top two" primary system drawing challengers to incumbents of the same party, and an independent 2011 redistricting process leading to less gerrymandering and no incumbents protected in "safe seats" drawn by themselves and their colleagues.

The guide also provides information on Propositions 41 and 42 and gives voters convenient access to a wealth of reliable online information from county election offices, the Secretary of State, and other nonprofits such as Maplight and its "follow the money" resources identifying campaigns' top donors. Other features include political district maps, a "Voting FAQ" providing answers to questions about registering and voting by mail, and a directory of county election offices featuring links to online tools that allow voters to check their polling place, vote by mail and registration status.

The California Online Voter Guide was first produced and published by CVF in 1994, and is now in its 23rd edition. "We know voters are busy and looking for reliable online information that can help them make informed choices," Alexander said. "We're happy to provide it at www.calvoter.org."

The California Voter Foundation is a nonprofit, nonpartisan 501c(3) organization working to improve the election process to better serve voters. CVF's 2014 voter outreach projects are supported by the Wallace Alexander Gerbode Foundation.
Legislature passes SB 27 to make initiative donors transparent to voters
Today the California State Senate approved Senate Bill 27, authored by Sen. Lou Correa (D-Santa Ana). CVF is in support of this bill and has been working with the author and the bill's sponsor, the California Fair Political Practices Commission throughout this legislative session to win its approval.

If signed into law, SB 27 will close a loophole in California disclosure law that allows donors to make anonymous donations to initiatives by passing their contributions through nonprofit organizations. It will also require committees that raise $1 million or more to self-identify their own top ten donors, making analysis of campaign data much easier for the public. Since it amends the Political Reform Act, it requires a 2/3 vote for passage.

SB 27 received bipartisan support in the Assembly, but fell one vote short in the Senate of passing when it was taken up on March 17. Since then, the author worked out a compromise to address Senate Republicans' concerns, and today the bill passed out of the Senate with 28 votes in support. Senate Republicans Anthony Cannella, Bob Huff and Andy Vidak provided the votes needed to get the bill to the Governor's desk.

SB 27 features an urgency clause which means if it signed into law it will take effect for this election and be in place in November, when voters are likely to face a number of high priced propositions and will need the extra transparency the bill will bring to help them make informed choices.

CVF congratulates the FPPC, Senator Correa and his staff, and all of the bill's many supporters for this important victory. The last step is communicating support to the Governor and urging him to sign it into law. Messages of support can be sent to the Governor Jerry Brown via phone, fax, mail or email - click here for his contact information.
Follow CVF on Twitter!
CVF uses Twitter to help our audience connect with important news and developments in the field of voting and elections, and also to offer live tweeting from conferences and events. An archive of tweets and links to relevant stories is available at
https://twitter.com/#!/kimalex3.

Follow @kimalex3 on Twitter to get CVF news tips, opinion and analysis from CVF's president.
- - - - - - - - - - -
The California Voter Foundation is a nonprofit, nonpartisan organization promoting and applying the responsible use of technology to improve the democratic process. CVF-NEWS is a free, electronic newsletter featuring news and updates about the California Voter Foundation's projects and activities.
Contact the California Voter Foundation by:
phone - (916) 441-2494
web - http://www.calvoter.org
U.S. Mail - P.O. Box 189277, Sacramento, CA 95818
Support CVF's work with a tax-deductible contribution! Learn more at http://www.calvoter.org/donate
Site Map | Privacy Policy | About Calvoter.org

This page was first published on May 8, 2014 | Last updated on May 14, 2014
Copyright California Voter Foundation, All Rights Reserved.