CVF-NEWS
Introducing the June 2016 Primary California Online Voter Guide!
May 04, 2016
Hi Folks,
I'm pleased to announce the California Voter Foundation's new California Online Voter Guide for the June 7, 2016 Primary Election is now online!
CVF's is one of many great online resources for voters this year. Voter's Edge, produced by Maplight and the League of Women Voters, provides outstanding in-depth, comprehensive information about all California candidates and contests. The Secretary of State's excellent Voter Information Guide features presidential and US Senate candidates' photos and statements, as well as numerous improvements making it easier to read and understand.
With Election Day just five weeks away, voters will start finding local and state voter guides and mail ballots arriving in their mailboxes soon. This year California voters will be well-served by all the excellent information many nonprofits and government agencies are providing online. Learn more below about what our new guide has to offer.
--Kim Alexander, President & Founder
California Voter Foundation
2016 Primary California Online Voter Guide debuts
All state and federal candidates featured at www.calvoter.org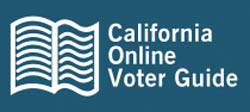 Voters looking for reliable information to help them prepare to vote in California's June 7, 2016 Primary Election will find it online at www.calvoter.org.
Today the California Voter Foundation, a nonprofit, nonpartisan organization debuted its new California Online Voter Guide, a comprehensive listing of all state and federal candidates on California's ballot as presented in the official Certified List of Candidates.
The guide lists all 39 candidates running in six different parties for President, 34 candidates running for the U.S. Senate, and hundreds of state and congressional candidates running for the State Legislature and U.S. House of Representatives.
The lone ballot measure, Proposition 50, which if enacted would give the legislature the authority to suspend state lawmakers without pay, is also featured. Essential information about the voting process, such as the May 23 voter registration deadline, and how to follow the money are included.
This is the 25th edition of the California Voter Foundation's nonpartisan guide, the first edition having been published in 1994. For more than two decades, the California Voter Foundation has provided voters with convenient, reliable online access to information to help them vote with confidence.
CVF's guide is free and features no advertising. Support for the guide is provided by individual donors and the Wallace Alexander Gerbode Foundation.
Follow CVF on Twitter!
CVF uses Twitter to help our audience connect with important news and developments in the field of voting and elections, and also to offer live tweeting from conferences and events. An archive of tweets and links to relevant stories is available at
https://twitter.com/#!/kimalex3.

Follow @kimalex3 on Twitter to get CVF news tips, opinion and analysis from CVF's president.
- - - - - - - - - - -
The California Voter Foundation is a nonprofit, nonpartisan organization promoting and applying the responsible use of technology to improve the democratic process. CVF-NEWS is a free, electronic newsletter featuring news and updates about the California Voter Foundation's projects and activities.
Contact the California Voter Foundation by:
phone - (916) 441-2494
web - http://www.calvoter.or
U.S. Mail - P.O. Box 189277, Sacramento, CA 95818
Support CVF's work with a tax-deductible contribution! Learn more at http://www.calvoter.org/donate
Site Map | Privacy Policy | About Calvoter.org

This page was first published on June 23, 2015 | Last updated on May 4, 2016
Copyright California Voter Foundation, All Rights Reserved.