CVF-NEWS
Election Preview Guide, FPPC symposium, EVN award winners
April 12, 2012
Hi Folks,
Happy Spring! In this issue of CVF-NEWS:
New June 2012 CVF Election Preview Guide helps Californians prepare for upcoming primary

April 19 FPPC/USC Symposium to explore the future of political reform in California

Congratulations to Election Verification Network award winners!

Follow CVF on Twitter!
-- Kim Alexander, President & Founder
California Voter Foundation

New Election Preview Guide helps Californians prepare for upcoming Primary

The California Voter Foundation's new Election Preview Guide helps the public connect with key resources to prepare to vote in the June 5, 2012 California primary election.

CVF will release a complete edition of the California Online Voter Guide in a few weeks. In the meantime, the Preview Guide provides key links to resources such as:
Primary voting rules FAQ

Official California Voter Information Guide

New political district maps

New ballot proposition "Follow the Money" resources from Maplight and the FPPC

Certified list of California candidates

Updated Directory of County Election Offices
CVF's June 2012 Election Preview guide is online at www.calvoter.org/voter/elections/2012/preview.html.

April 19 FPPC/USC Symposium on the Future of Political Reform

On Thursday, April 19, a half-day symposium will be held at the Sheraton Grand Hotel in downtown Sacramento to discuss the "Future of Political Reform". The event is hosted by the California Fair Political Practices Commission and USC's Price School of Public Policy.
The event is free and open to the public but registration is required (deadline is this Friday). Speakers and moderators include Governor Jerry Brown (invited), FPPC Chair Ann Ravel, Elizabeth Garrett, Bradley Smith, Joe Mathews, Dan Morain, Juliet Ann Musso, Richard Briffault, Ben Barr and Willie Brown.
Click here to see the full program; click here to register for the event.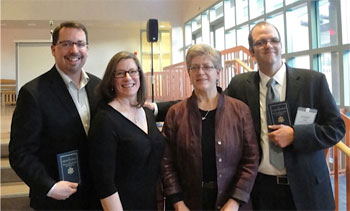 Congratulations to the Election Verification Network Award Winners!

Last month I had the pleasure of attending the Election Verification Network (EVN) conference in Santa Fe, NM.

EVN is a nationwide network of activists, election officials, computer scientists and academics working to improve election security and reliability.
This year's EVN award winners include (left to right): Los Angeles County Registrar of Voters Dean Logan, election usability experts Whitney Quesenbery and Dana Chisnell, and CVF Board Vice Chairman Joseph Lorenzo Hall.

Congratulations to all for your incredible work improving U.S. elections! Special thanks also to the Quixote Foundation, which has supported EVN since its inception in 2004.
Follow CVF on Twitter!

CVF uses Twitter to help our audience connect with important news and developments in the field of voting and elections, and also to offer live tweeting from conferences and events. An archive of tweets and links to relevant stories is available at https://twitter.com/#!/kimalex3.

Follow @kimalex3 on Twitter to get the latest breaking news from CVF.
Support CVF with a tax-deductible contribution!
The challenges ahead for voting and elections are clear, and loom large in 2012, this presidential election year.

Your support for CVF's work is a powerful incentive and tells us that you share our vision.
Please make a tax-deductible contribution to the California Voter Foundation. Help us sustain this incredibly successful venture and keep CVF a catalyst for improving elections in California and nationwide.

You can donate online or by check to:

California Voter Foundation
P.O. Box 189277
Sacramento, CA 95818
We hope we can count on your support for CVF!
- - - - - - - - - - -
The California Voter Foundation is a nonprofit, nonpartisan organization promoting and applying the responsible use of technology to improve the democratic process. CVF-NEWS is a free, electronic newsletter featuring news and updates about the California Voter Foundation's projects and activities.
Contact the California Voter Foundation by:
phone - (916) 441-2494
web - http://www.calvoter.org
U.S. Mail - P.O. Box 189277, Sacramento, CA 95818
Support CVF's work with a tax-deductible contribution! Learn more at http://www.calvoter.org/donate
Site Map | Privacy Policy | About Calvoter.org

This page was first published on January 27, 2012 | Last updated on April 12, 2012
Copyright California Voter Foundation, All Rights Reserved.