Supporters
The California Voter Foundation's work is supported through tax-deducitble contributions from foundations and individual donors, as well as in-kind support. CVF is a 501(c)(3) organization, federal tax ID number 68-0190132. Please donate today!
CVF thanks the following donors who make our work possible: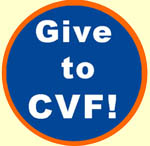 Airtouch Communications Foundation

American Conservation Foundation

AOL Time Warner Foundation

Apple Computer

Arkay Foundation

California Cable Television Association

California Calls

Carnegie Corporation of New York

Columbia Foundation

Compaq Laboratories

Digital Equipment Corporation

Wallace Alexander Gerbode Foundation

William and Flora Hewlett Foundation

Hewlett-Packard

Intel Foundation & Corp.

The James Irvine Foundation

Joyce Foundation

Markle Foundation

Pacific Telesis

Pew Center for Civic Journalism

The Pew Charitable Trusts

Piper Fund

Quixote Foundation

Rockefeller Family Fund

San Francisco Foundation/Gerard Gleason Fund

Vodafone-US Foundation
Site Map | Privacy Policy | About Calvoter.org

This page was first published on August 6, 1996 | Last updated on June 9, 2018
Copyright California Voter Foundation, All Rights Reserved.